William Tyson acquired the northwest corner property by Chain Bridge Road and Leesburg Pike in the mid-1800s, and it's from that corner where a general store operated until the mid-1960s and laid the seeds for what would become Tysons Corner.
Things have changed just a bit since then.
For starters, the Fairfax County submarket has since dropped the "corner" to become just Tysons. The 7.08-acre property at 2050 Chain Bridge Road has hosted a pair of Koons auto dealerships for the past five decades under a master lease slated to expire in 2024. And millions of square feet of development, along with several Metro Silver line stations, have sprung up or are in the pipeline around it.
The property is now owned by an affiliate of the Caldow family, relatives of Tyson, and the family recently retained Cushman & Wakefield (NYSE: CWK) to market the site to interested developers under a new long-term ground lease. The site could support around 250,000 square feet of by-right development, but a change to the Planned Tysons Corner zoning designation could potentially boost that estimate to around 1.1 million square feet of mixed use. That estimate doesn't include an adjacent, 7.08-acre site, owned by an affiliate of the Sherwood family, also relatives of Tyson. Cushman & Wakefield isn't actively marketing that property, but the commercial real estate services firm has been authorized to present it as available for sale or ground lease, creating the potential for a 14-acre development.
"What's unique, and we've done a lot in Tysons, but it's rare to find an opportunity that's literally at main and main," said John Pellerito, a managing director at Cushman & Wakefield and part of the team marketing the site along with Executive Managing Director Paul C. Norman Jr. and Vice Chairman Paul Collins. "Knowing that the lease is expiring in 2024, the families have started to explore their options."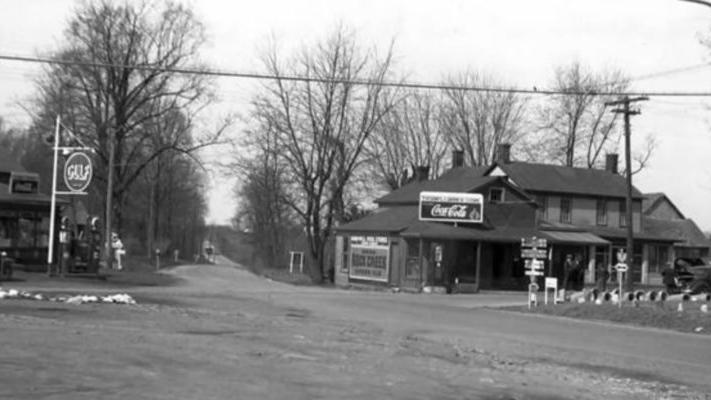 Myers gas station at Leesburg Pike and Dolly Madison Boulevard in Tysons (1930)
TYSONS CORNER PARTNERSHIP
The site, 400 feet from the entrance to the Greensboro Metro station, is not the first Tysons auto dealership site to be eyed for redevelopment, and it won't be the last. Nor is Jim Koons Automotive going away, as the dealer got approval in August to significantly expand the Koons Tysons Toyota in the 8600 block of Leesburg Pike. The property is also located across the street from The Boro, a mixed-use development by The Meridian Group anchored by a Showplace Icon movie theater and flagship Whole Foods Market — the latter is scheduled to open Oct. 30.
It's an unusual approach for a development site to be marketed openly like this. More typically, a prospective seller will either offer the property for sale as is or take it through an entitlement process and then sell once it has created added value. But this is an unusual set of circumstances, Norman said. That's because the site was split into two in 2017 so the Caldows could explore potential ground-lease scenarios while keeping open the prospect of what the Sherwoods would do with their half. It's not a foregone conclusion the Koons dealerships will shutter after its ground lease expires, but that lease was struck below current market rents, meaning it faces a substantial increase in operating costs to stay.
"It would be a little bit foolhardy to take it through and decide what our vision for it is," Norman said. "There's so many different possibilities, it's almost better. That's why the timing works out well to have somebody who has the vision and let them take it through the county while we still have the benefit of time."